It may not sound very exciting, but I picked a book that was simply bigger than most other books.
Actually, it's quite a bit bigger. It's Seth's  graphic novel – or to use the author's term, "a picture novella" – entitled George Sprott: (1894-1975). Check out the image below for a side-by-side match-up with a book of more common proportions.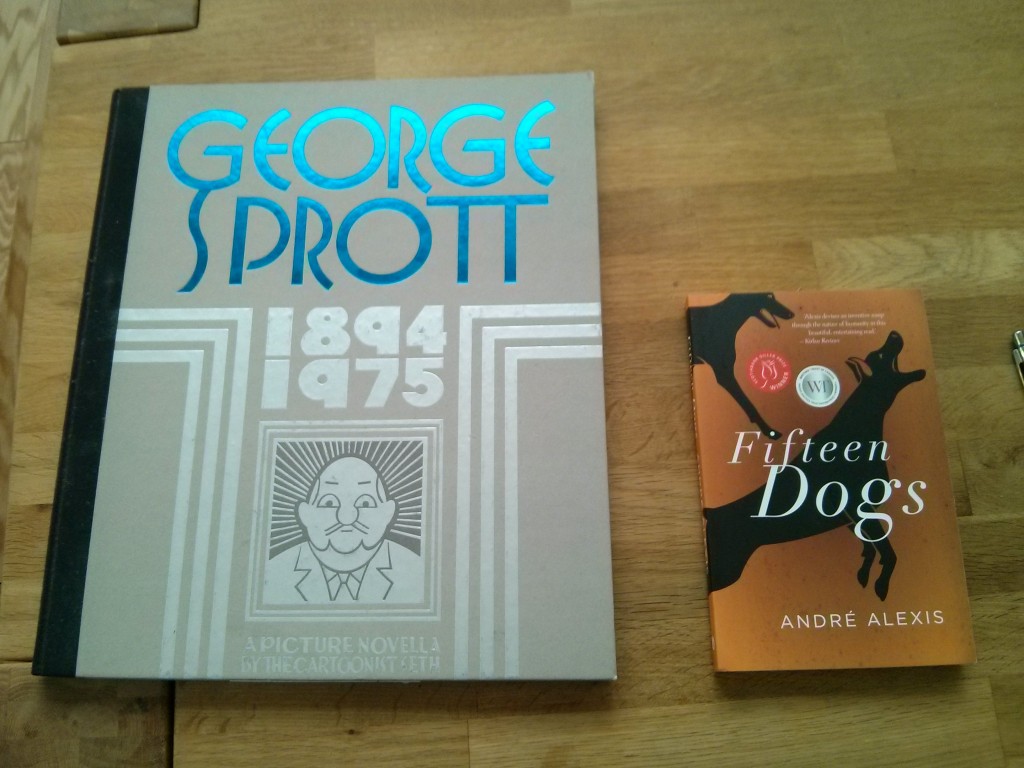 Okay, so why is this interesting? I've jotted down my commentary into two sections: (1) practical issues and (2) the reading experience.
Practical Issues
The book is too big to fit on most shelves – either at home or in institutions. I happen to own the book, but it has been exiled to a closet rather than my bookshelves. At the library I volunteer for, this book would not be eligible for acquisition because it can't fit on any of the shelves. So, despite its large size which at first seems to make it its own poster, the book is surprisingly unmarketable – either at home or at libraries and, I imagine, at bookstores.
Reading this book simply requires a lot of space. A "subway read" this is not. It is decidedly not portable. This is especially the case with the pull-out pages shown in the image below.
Not unlike a large print version of a book, some of the pages are easier to read. Everything is blown up. Other pages, like the ones in the image below, can be packed with more content, including as many as seven rows of panels.
The Reading Experience
One part of me feels like a child when reading a book that shares dimensions that you might associate with Clifford The Big Red Dog. Because Seth's book, geared at adults, shares the form of some children's books, it kind of feels like one. (This is enhanced by the board book-esque cover.)
Another part of me feels like a veritable grown-up when reading this book. That's because the large format reminded me of an coffee table art book. The sheer size of the pages made me more conscious of the visuals and physicality of the book. Personally, this made me less immersed in the story because the the unusual format was distracting. Of course, that could be the point.
Until companies release some kind of ereader projector, any "big book experience" would be hard to recreate on an ereader's relatively limited range of physical dimensions. (Maybe the new, large screen iPad Pro would be a close approximation.)
Bibliography
Seth. George Sprott: (1894-1975). New York: Drawn & Quarterly, 2009