As Holly mentioned, she and I have chosen to work on a poem by the poet Robert Bringhurst for our encoding challenge. We have selected a poem from Bringhurst's Selected Poems, published in 2009 by Gaspereau Press.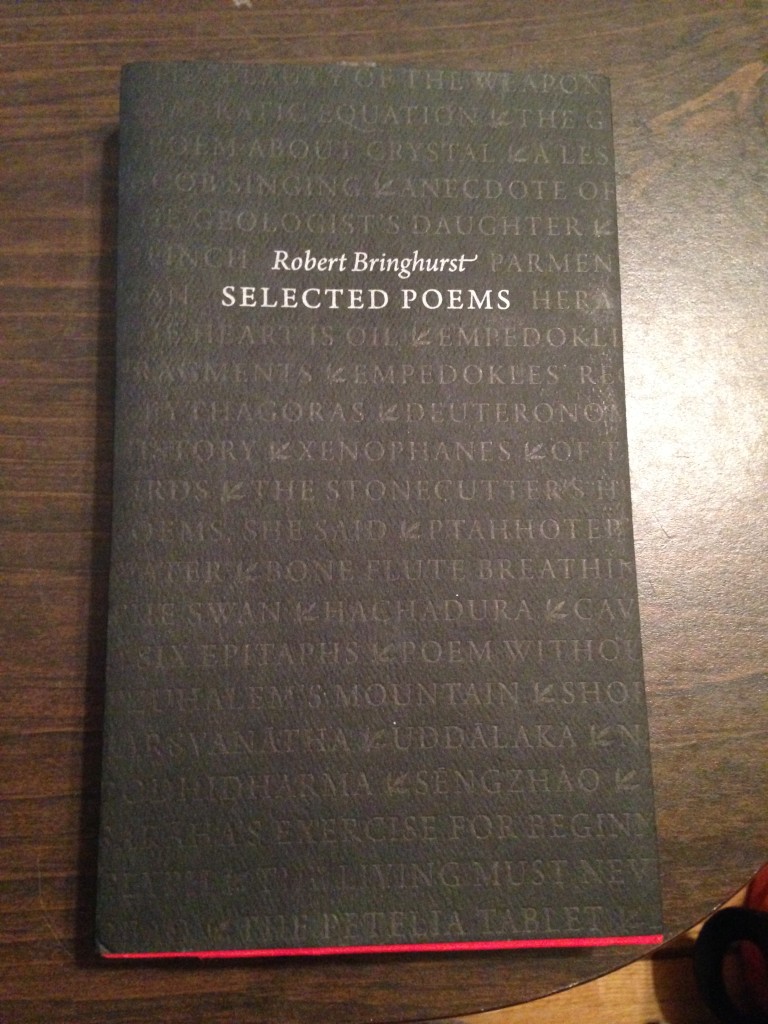 In an epigraph to the collection, Bringhurst notes that, "when conditions are right, it is good for poems to be spoken aloud. I mean that the poems themselves may benefit, not just the creatures who speak them and hear them. But in some of the poems in this book, two or three voices are speaking at once, contradicting or enlarging or refining one another as they go. Here, the overlapping voices are printed in different colors. Poems in which this occurs can be read in silence by one person alone or spoken aloud with one or two friends, if conditions are right. Which, in the presence of one or two friends, they just might be" (5). We felt that focusing on one of these poems with multiple voices was a great opportunity to explore what TEI allows us to capture of the experience of interacting with poetry. To begin, we looked at New World Suite No. 3: Four Movements for Three Voices: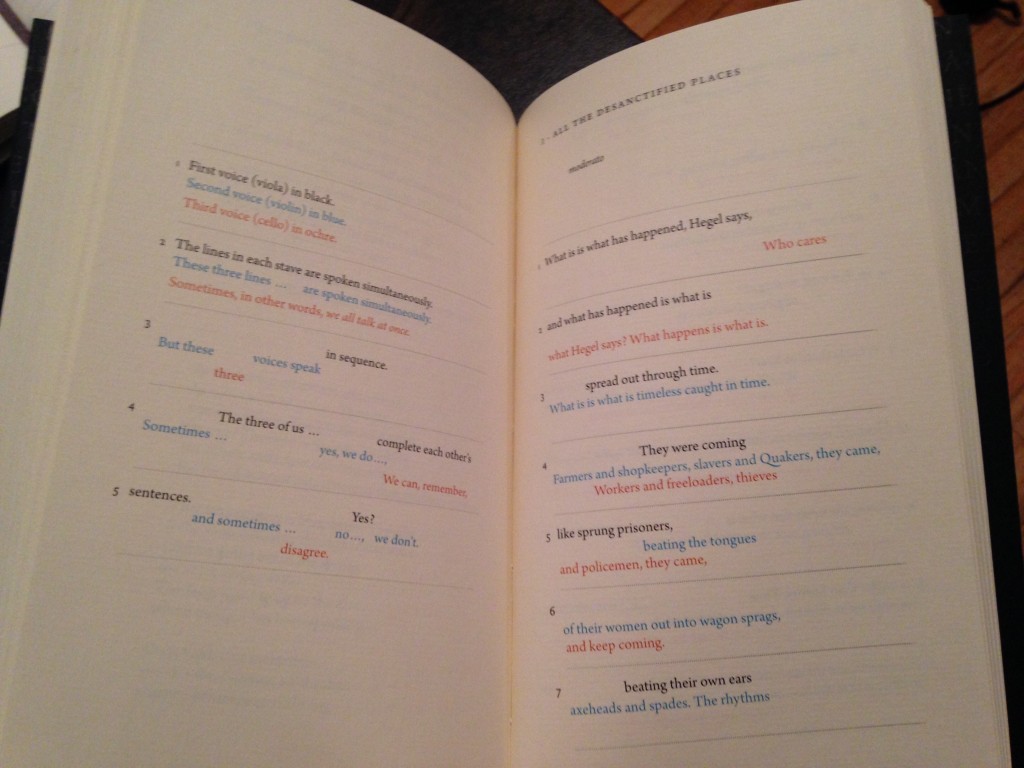 If you'll excuse the blurry photo…you can see perhaps that the three colours (black, blue, and red) represent the voice of the viola, the violin, and the cello, respectively. Bringhurst intends for the lines to be spoken simultaneously, at times, or in sequence. In some cases, the voices will finish each other's sentences, or contradict one another. This sort of variety of reading experience immediately made me recall Prof. Galey's example of his own work as part of his Visualizing Variation project, specifically his Animated Variants prototype (http://individual.utoronto.ca/alangaley/visualizingvariation/animated.html). Prof. Galey describes the project: "it was thought that digital editions could represent variants dynamically, presenting their ambiguity to readers not as a problem to solve, but as a field of interpretive possibility. Very few digital editions, however, have realized this possibility in their interfaces. One thing a digital visualization can do is make a virtue of ambiguity in ways that print cannot, combining the elements of time and motion to represent variants in ways that challenge the idea that texts are fixed and immutable." This made me wonder if it would be possible to translate Bringhurst's vision for a multi-vocal, performatory reading experience just as 'dynamically' as it is on the page, yet through XML. Exactly as Prof. Galey points out the potential for digital visualization, Bringhurst seems to be looking for the fluidity, the mutability, and the unfixed nature of this poetic interaction.
Upon considering the reflection further, Holly and I looked to another example of Bringhurst's polyphonic poetry, The Blue Roofs of Japan: Duet for interpenetrating voices: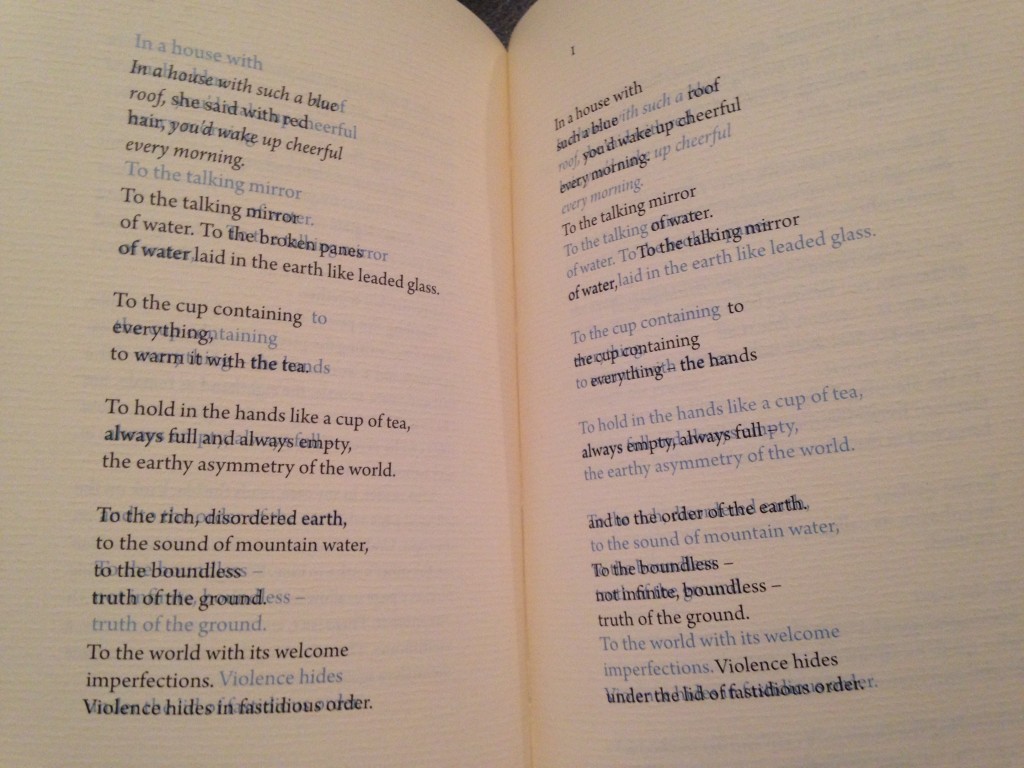 In an introduction to this poem, Bringhurst notes that, "The Blue Roofs of Japan is a poem for two voices – in principle little different from a sonata for cello and piano, except that here the instruments speak; they don't quite sing. The full text of the poem is printed on both the righthand and lefthand pages of the book, but since the two voices frequently overlap, the two parts are not always legible on any one page. The lefthand pages give prominence to one voice, the righthand pages to the other. Facing pages should be read not in sequence but together. Reading the poem aloud requires two people…one reader, in any case, reads the black ink on the lefthand page while the other reads the black ink on the right. Under his or her own lines, each reader can see the other's voice in blue. Enough blue ink is visible on every page to allow both readers to keep pace with one another. There isn't, and in my view musn't be, a metronome. The only thing the readers have to pace themselves against is each other" (175). It is exactly this sentiment that we hope to capture in our encoding. A sense of flow, overlap, and cohesion. As Galey points out, "animated variants also drive home the simple yet unsettling point that textual transmission is more often a matter of change than fixity: texts sometimes change even when readers aren't looking." Bringhurst opens up this possibility to his readers. While we're unsure whether or not we'll be able to execute our vision, we love the idea of applying something like CSS transitions (see: http://individual.utoronto.ca/alangaley/visualizingvariation/samples/animatedVariants/animatedVariants_v02_sonnet129.xml) to give the poem movement, colour, and 'voice', just as Bringhurst intended.
Bibliography:
Bringhurst, Robert. (2009). Selected poems. Canada: Gaspereau Press.
Galey, Alan. Visualizing variation. http://individual.utoronto.ca/alangaley/visualizingvariation/index.html#using.